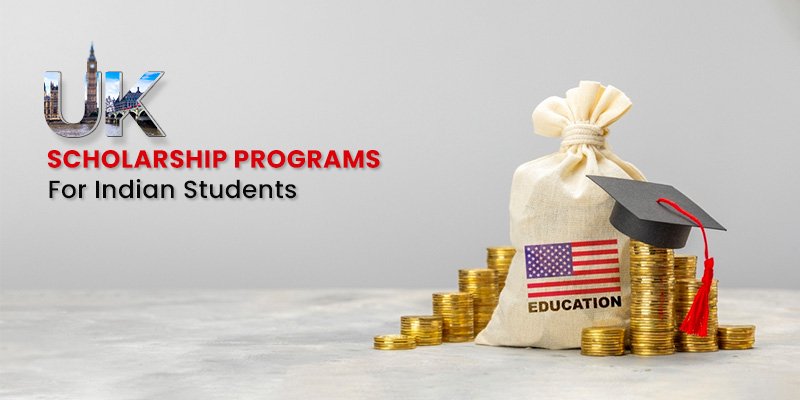 Top 6 UK Scholarship Programs for Indian Students
Studying in a country like the UK is the dream for every student. The UK is the land of many top-notch universities, including Oxford, Harvard, and others. Apart from this, it is full of incredible landscapes, a city with a high standard of living. However, studying in the UK could be costly for Indian students, forcing them to give up on their thoughts.
Owing to this, the UK government and universities are running numerous scholarship programs to sponsor seeking international students. These scholarships or funding programs pay student fees in a different manner; some of them cover the entire tuition fee of the student.
According to their availability and authority, these scholarship programs are also categorized into other types. It includes governmental scholarship programs, UK institution-specific scholarships, and university-offered scholarship programs.
There are numerous courses to study in UK. According to courses, some of the prominent scholarship programs are mentioned below.
1. British Chevening Scholarships
The Chevening scholarship program is dedicated to master degree pursuers. This is the governmental scholarship program run by the UK Foreign and Commonwealth Office and its partner organizations. The program grants funds to aspirants with great leadership qualities and impressive academic profiles.
Eligibility Criteria:
Must be a citizen of a Chevening-eligible country
Graduated
Minimum two years of work experience
Must have an offer letter from a UK university
Profiles: Around 1500
2. Commonwealth Fellowship Plan
The Commonwealth Fellowship plan is created for students from the commonwealth country. The UK comprises a great percentage of students and employees from these countries, who also contribute to its economic growth. This program is specifically dedicated to a student who wants to pursue a higher degree such as a master's or Ph.D. in the UK. You can get more details about this from UK student visa consultants.
This program explicitly covers the entire tuition fees and other allowances like an economy class return ticket from the UK. The Commonwealth program is the umbrella program for students that cover different types of scholarships.
Commonwealth Ph.D. Scholarships
Commonwealth Split-site Scholarships
Commonwealth Master's Scholarships
Commonwealth Shared Scholarships
Commonwealth Distance Learning Scholarships
Commonwealth Ph.D. Scholarships
Commonwealth Medical Fellowships
Commonwealth Professional Fellowships
Eligibility Criteria:
The study program should be relevant to the past academic profile
Proof of the critical financial condition of the student
The program should be included in the CSC development theme
Admission offer letter from the UK university
Profiles: 800
3. Charles Wallace India Trust Scholarships
This Charles Wallace India Trust Scholarships is particularly dedicated to Indian students. CWIT program helps Indian students to grow their professional careers in art, and academics, as well as with professional ambitions.
This scholarship program covers different types of expenses in regard to students, including accommodation, tuition fees, travel fares, and others.
Eligibility Criteria:
The applicant must be a citizen of India.
Age must be between 28 to 38 years
Must have a relevant academic background with a diploma or professional qualification in their specialization.
Profile: Varies every year
4. Dr. Manmohan Singh Scholarships
This is a university-specified scholarship program that sponsors talented Indian students who want to pursue a doctoral degree. However, the Dr. Manmohan Singh Scholarship program only applies at St. John's College.
This program covers the academic fees, travel fare, accommodation, and monthly stipend.
Eligibility Criteria
Must be an Indian citizen
Should have a PG degree in hand
Age should not be more than 35 years
Profile: Varies every year
5. GREAT Scholarship
The GREAT scholarship program is applied for post-graduate courses. This program applies to students from 14 countries, including India. The qualified students are awarded with £10,000 as a scholarship that can provide great aid in paying their student fees.
Eligibility Criteria
Must be a citizen of one of the 14 listed countries
Must have a UG degree certificate from their native country
A good score in English proficiency test
Profile: Approx. 103
6. Felix Scholarship
Felix scholarship program is dedicated to students from India and other developing nations to help them in their postgraduate studies. This scholarship program is applied at three universities, including the University of Oxford, the University of Reading, and the School of Oriental and African Studies (SOAS), part of the University of London.
Felix scholarship program covers tuition fees and living expenses. It also offers some other benefits like allowances for clothes, books, and travel fare.
Eligibility Criteria
Must have the nationality of a developing nation like India
Graduated with first-class or higher academic score
Profiles: Varies every year
Conclusion
As mentioned earlier, scholarships are well-known programs run by different entities, authorities, or organizations. Apart from these, universities and the government also drive numerous other scholarship programs to provide financial aid to underprivileged students. You can contact a reputed UK student visa consultant in Ahmedabad to get brief details about scholarships.