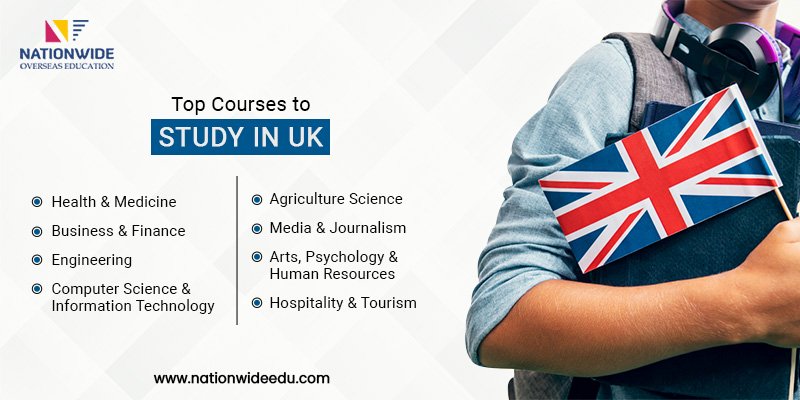 Top 8 Courses to Study in UK for Indian Students
The number of international students in UK is multiplying with every passing year. The UK is one of the largest countries in the context of foreign immigrants and students. Alongside alluring splendid cities, the UK's high standard of living attracts students from around the globe.
The prominent university and colleges offer various graduation and post-graduation courses to specialize in different subjects. However, it becomes an ordeal for students to choose the right course independently. As a reputed UK student visa consultant in Ahmedabad, we share some prominent courses that can help you to get clarity in the selection of the course.
Before digging deep into the core topic, let's look at the perks of studying in UK.
What are the Benefits of Studying in the UK?
1. Quality Education from Well-known Universities
The first and foremost benefit of studying in UK is the reputation of universities. The UK is the home of notorious colleges and universities, including the University of Oxford, the University of Cambridge, Imperial College London, and so on. These universities are pioneers of modern education, innovations, and research in different subjects. Getting selected for studying is an achievement and pride in itself. You will find the best tutor and reference in this university, where you can learn subjects so nicely with adequate explanation.
2. Scholarship Programs
UK colleges and universities know the value of talent and respect it. These universities offer scholarships to students who qualify for its criteria. The UK government runs different scholarship programs such as GREAT, Chevening, Commonwealth, etc. Apart from this, the UK government also provides financial support and funding to students to help them in their education. If you apply for a UK student visa, then you must search for scholarship programs.
3. Diverse Culture
Around 15% population of the UK is comprised of immigrants. These immigrants come from different cultures and countries. While studying in UK, you can get a chance to embrace other cultures and indulge in various cultural activities. The UK regime admires the diversity of different cultures and religions. Irrespective of your culture, you can celebrate any festival with full freedom.
4. Job & Internship Opportunities
On the completion of the courses, these universities and colleges reward students with numerous jobs and internship programs. These jobs and internship help students initiate their careers with big companies. Early jobs also provide a broad perspective of knowledge in a particular subject.
Which is the Best Course to Study in UK?
According to your post-educational history and interest, here are the courses to study in UK.
Health & Medicine
Courses associated with medicine and health has constantly been gaining the attention of its enthusiasts. Also, the demand for medical post-covid-19, there are numerous courses available on different subjects such as nutrition, optometry, nursing, anatomy, physiology, dietetics, oral medicine, etc. Multiple colleges in various cities in the UK offer this course. Some of the notorious colleges for health & medicine are mention below.
According to the course duration, the tuition fees for medical and health specialization study in UK vary from £38,000 to £50,000 annually. However, some other colleges charge fewer tuition fees.
Business & Finance
The UK is the world's sixth fastest-growing economy. It is the place of well-known financial institutions and organizations, including Deloitte, Barclays, Ernst & Young (EY), Lloyds Banking Group, KPMG, PricewaterhouseCoopers (PwC), and others. To provide skilled economists, accountants, financial advisors, and others, the UK has a lot of universities and colleges affiliated with business & finance courses. For a very time, Nationwide Overseas Education, a student visa consultant has prepared a list of the best business schools for you. Famous universities and colleges for business and finance are listed below.
Tuition fees for business and finance-related course varies from £23,000 to £47,000. Note that some colleges and universities include charges for accommodation for international students. So it might be a little bit more expensive than mentioned price range.
Engineering
Engineering is an evergreen specialization for science enthusiasts as it opens the door to various career options like Automobile, Computer, Mechanical, Electrical, and others. Nationwide Overseas Education can help you to choose the best engineering colleges according to your profile. Here are some prominent engineering universities and colleges in the UK.
Engineering college fees in the UK start from around £26,000, which could be as much as £45,000. Also, the tuition fees are higher for post-graduation courses.
Computer Science & Information Technology
We are living in the era of digitalization and the internet. As revolutionary technologies like IoT, ML, Cloud, and others are taking place globally, demand for Computer science and Information Technology is at a peak. The best universities for specializing in computer and I.T. are mentioned below.
Average tuition fees for graduation and a master's in computer science or information technology are range between £15,000 to £36,000.
Agriculture Science
Various UK universities offer graduation and master's programs in the agriculture field. Some prominent universities are listed below.
Fees for studying agriculture science in the UK vary from £18,650 to £25,000.
Media & Journalism
If you are more vocal about injustice or anything happening around you, then pursuing a degree in media and journalism is the best choice. Popular colleges to learn all aspects of media and journalism are given below.
Fees for graduation or post-graduation in media and journalism vary from £17,000 to £24,500.
Arts, Psychology & Human Resources
If your mind is full of creative thoughts and ideas, then these colleges are for you.
For psychology, you can choose one of these universities.
Some best universities for Human Resources management are mentioned below.
Hospitality & Tourism
This course is a suitable choice for explorers' personality who wishes to travel to different countries across the world. Some well-known universities for hospitality and tourism are mention below.
You have to be ready to pay fees between £13,300-£17,500 to study hospitality and tourism courses.
Conclusion 
Choosing the best courses in reputed universities is an uphill task for students and parents. Also, a lot of applicants are unknown of the benefits that UK universities offer, such as scholarship programs and financial funding. It makes their education costs lower. However, you should not worry about that if you reached here. If you are also planning to move out of the UK then we can help you to find suitable courses and educational institutions. We are the best UK student visa consultant in Ahmedabad. You can contact us for further guidance. It will make us feel happy!
FAQs about Study in UK
1. What are the Common Requirements to Get Admission in a UK University/College?
The basic requirements for applying for a study visa in the UK are mentioned below.
Minimum 11 years of education history
Adequate scores in English proficiency tests like IELTS, TOEFL, CAE, etc.
Bank statements to verify your financial proof
Statement of Purpose (SOP)
Passport
Application form with fee receipt
2. What to Know Before Going to Study in UK?
First, you should arrange accommodation and check availability from your location to the college or university. Also, you should contact the accountable authority of the university and inform them about the departure date and location.
3. Which English Language Tests are Accepted by UK Institutions?
Most universities and colleges accept IELTS, TOEFL, iBT, and PTE. Apart from this, some colleges now allow admission to those qualified in Duolingo.
4. How to Get a UK Student Visa?
While applying for a student visa, you must have these five things.
Offer letter for a valid course from a licensed sponsor
Proof of English proficiency test
Passport
ATAS certificate
Sufficient financial proof that can support your stay in the UK throughout your study
Apart from this, if you are under 18, you will require guardians' written consent. 
5. Why Should I Study in UK?
There are abundant reasons to studying in UK as it is a country of well-known universities and tutors. You can enrich knowledge in a specific field with excellent teaching methods. Also, the UK government allows 20 hours of work for students to reduce their financial burden. Apart from education, you can unlock opportunities for travelling in the country.