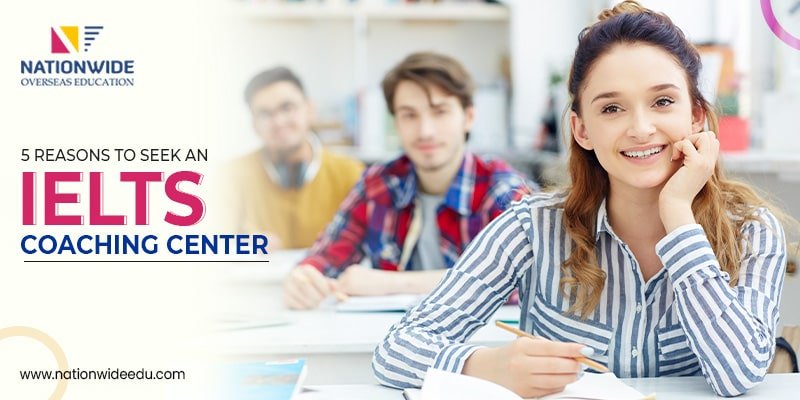 Top 5 Reasons you should Seek an IELTS Coaching Center
So you're all ready to launch your dream journey to study abroad. But wait, you're somewhere unsure whether to prepare for the first stepping stone, that is, IELTS, on your own or reach out for a profession. There are many benefits of taking IELTS coaching. Moreover, there are many institutes offering best IELTS coaching in Ahmedabad. The question is – should you opt for one?
As a renowned student visa consultant in Ahmedabad, we want to highlight five reasons you should seek an IELTS coaching center. Let's get to it without any further ado. 
Updated Teaching Techniques 
One of the major perks of reaching out to an IELTS coaching institute is they're updated with the advancements and latest updates in the exam pattern. The number of modules, which module to focus on first and why, etc. A coaching institute has a team of industry experts who know the updates and devise teaching patterns keeping those updates in mind. Since our team knows the in and out of the exam pattern, they can easily create the teaching techniques that go with the updates. 
Prepares you for more than Just the Exam 
As a consultant offering IELTS coaching in Ahmedabad, we can vouch stating that we prepare you not just for the exam. Consultants like ours really care about our clients' dreams and lead with a holistic approach. More than teachers, you get mentors that prepare you for all the challenges you will face once you get admitted to your desired university.
Gain Knowledge from Industry Experts 
This is one of the other benefits of preparing with an IELTS coaching center. You have direct access to industry experts. You get to learn English from the most qualified professionals who ensure you're good to go for all modules (speaking, listening, writing, reading). Similarly, for other subjects too, we have experts to guide you on your academic journey. All in all, an IELTS coaching center prepares you holistically. 
Ensures you Prepare in a Sequential Manner 
Preparing for IELTS may not be as difficult on your own. However, the important thing is to go sequentially. The mentors take up all sections of the paper one by one in proper order until the students are not fully prepared. This won't be the case when you prepare solo. While you may prep all the modules, you may not be able to do so in a serial manner. 
Thorough Practice 
While you can prepare for the exam on your own, the bigger benefit of approaching a coaching center is discipline. We offer an organised plan to each student by identifying their strong and weak areas and get them into the habit of practice.
In Conclusion 
Scoring good in IELTS depends on your hard work and also largely on the student visa consultant you choose. Remember, your IELTS journey is more than just scoring good. It sets your path on choosing the right university for you. So it's crucial you go for an IELTS coaching center that is experienced like ours. To know more about our services, feel free to contact us. Your dream university is only a call away! Good luck.