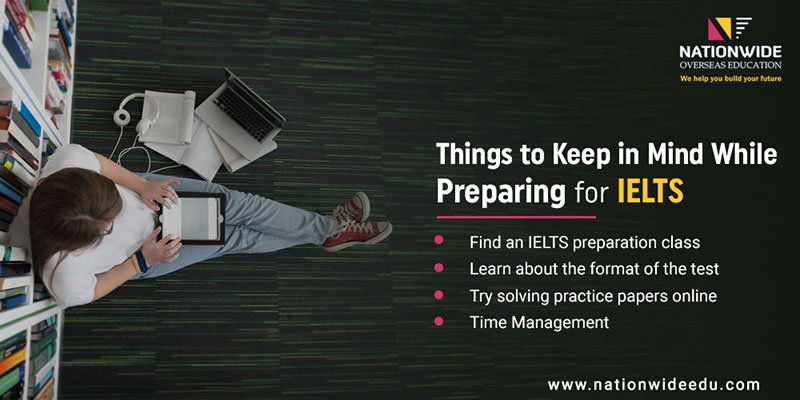 How to Prepare Yourself for the IELTS Test?
Planning to go abroad for higher education? Congratulations on making such a huge decision. Now that you are all set to go abroad and study, the next step should be visiting a visa consultant, followed by passing the IELTS test. If you are confused about whom to approach, Nationwide, the visa consultant in Ahmedabad will be happy to help you out.
A lot of students give IELTS every year, but not everyone manages to get a good band. IELTS may seem like a nightmare and hence, we have jotted down some points on 'Things to Keep in Mind While Preparing for IELTS'.
Things to Keep in Mind While Preparing for IELTS
Find an IELTS preparation class
Finding an IELTS preparation class is important. Even if you speak or use English regularly or have a good hold on the language, without extensive training and practice, it might be difficult for you to clear the test. If you do research, you may find IELTS classes available online as well as face-to-face, depending on your location and convenience. In case you are in Ahmedabad, you will be able find a lot of centres providing IELTS coaching in Ahmedabad.
Learn about the format of the test
IELTS is amongst those exams that follow a standardized English test format. The exam time is the same, the question paper pattern is the same, and the format of the test is the same. Studying the format of the paper and practicing can be helpful. You can set time for yourself and try to solve the questions in the given time. This method will also boost your confidence.
Try solving practice papers online
The proverb Practice makes a man perfect is apt. Solving papers online is valuable as it helps gain experience of practicing, solving different types of questions. Although there is IELTS coaching in Ahmedabad, you can check for online courses. There are also sites that give you free training of IELTS and question papers to solve. Google also helps you find blogs that can be helpful for your IELTS test.
Time Management
In IELTS, knowledge is tested in 4 different areas- Listening, reading, writing and speaking. One needs rigorous practice of speaking and writing, to speed up and give the best suitable answers/ responses to the questions. Solving papers online and offline will give you an idea about time management. Time management helps you solve the paper effectively and quickly.
Try to keep all these points in mind before appearing for the IELTS test for good results. All the best!