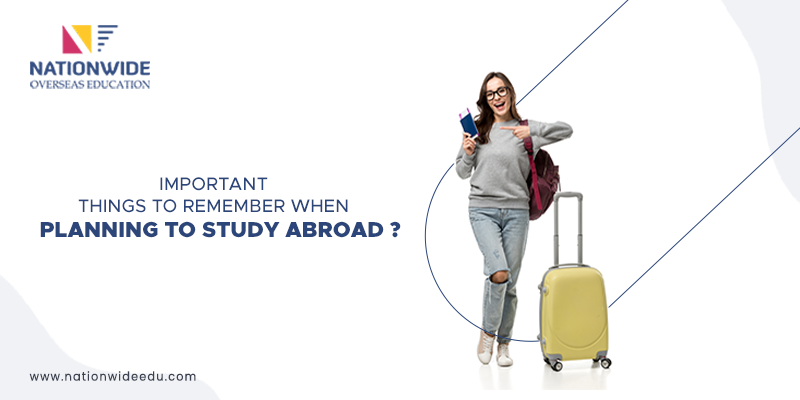 Important Things to Remember When Planning to Study Abroad?
Studying abroad is a dream for millions of students but they are not aware about how to start the process?
A few things to remember before start the process
1. Research
First decide about what course you want to study and what is your purpose for studying abroad. After that search for the course options relevant as per your interest as well as the opportunities available in that course and which country is suitable as per the course you are planning to study. When it comes to study abroad ample of course options are available for students in it, engineers, business management, accounting, finance, taxation and many more.
2. Eligibility
After you have done your research about course and country the most important factor is that are you eligible for the same. The factors that affect your eligibility are course studied in last education and academics you can check whether you can apply in that course or country. IELTS is mandatory for almost all the countries.
3. Budget
Once you plan to start the process, make a research about the tuition fees of the course and the funds required for living expenses. Some universities also offer scholarships for Indian students on the basis of academics. It differs from country to country. Some country requires blocked accounts and, in some countries, you need to show old funds minimum 28 days old. Budget depends upon the duration of the course.
4. Documentation
The most important thing when you planning to study abroad is that your documentation is complete. Check your documents if anything is missing you can start applying for the same in school/college since it is time consuming process. Also apply for a passport if you don't have already.
5. Process
Once you have checked your eligibility, research and also checked budget next step is you can start your process by applying for the admission in university in your desired course. In few weeks, you receive the offer letter and after that tuition fees is to be paid. After paying fees you can start the process for visa application.
Advise
You can take a help of overseas education consultant in Ahmedabad for the better guidance as per your profile and requirements. It is always recommended to connect with student visa consultant if you are planning to study abroad for higher education.