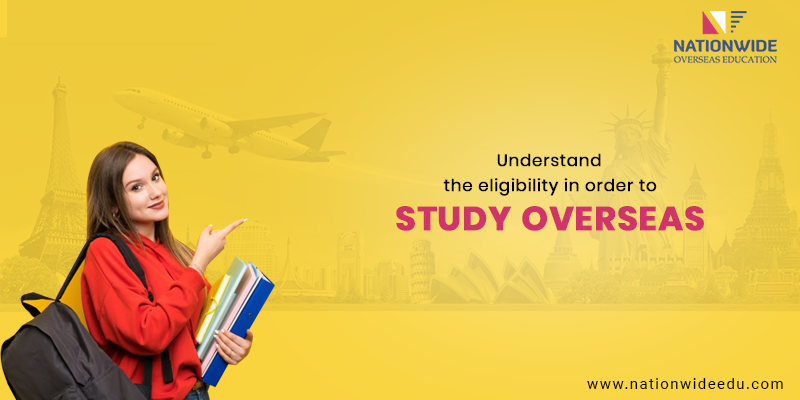 Understand the eligibility in order to study overseas
You can get there by appearing for IELTS and getting a good score. We are an overseas education consultant in Ahmedabadwho can help you understand what IELTS is and why it is so important. To gain an overseas visa you will have to polish your English abilities to migrate.
The best IELTS coaching in Ahmedabad happens at Nation Wide wherein we teach the language and also groom them for the future process of visa. The full form ofIELTS is the International English Language Testing System. You need IELTS if you are thinking to study abroad. Universities and colleges across specific countries do accept the IELTS score.
Eligibility Criteria
In order to give IELTS exam candidates should be the age of 16. Those students who are applying to the universities in the UK, Canada, Unites States, New Zealand, and Australia need to appear for IELTS. Planning to settles down in Canada and Australia needs to appear for the test and also medical professionals who are planning to get their higher education would have to give IELTS exam.
IELTS pattern
It mainly comprises of four skills in the English language which are Speaking, Reading, Writing, and Listening. 2 hours and 45 minutes would be given to each candidate to complete the exam. Each skill would have a different set of questions and separate markings. These skills have to be scored according to the band needed for each.
Nation Wide is one of the best coaching given by us taking care of all the skills of the language and we teach you from scratch till you master the language.  Your pass to your dream university for further education can come true if you get the best IELTS coaching in Ahmedabad. To get a visa for students and to mold them for an interview, you need to choose a student visa agent in Ahmedabad who can help you with all the procedures and also make you understand what is right and how you should prepare for IELTS.