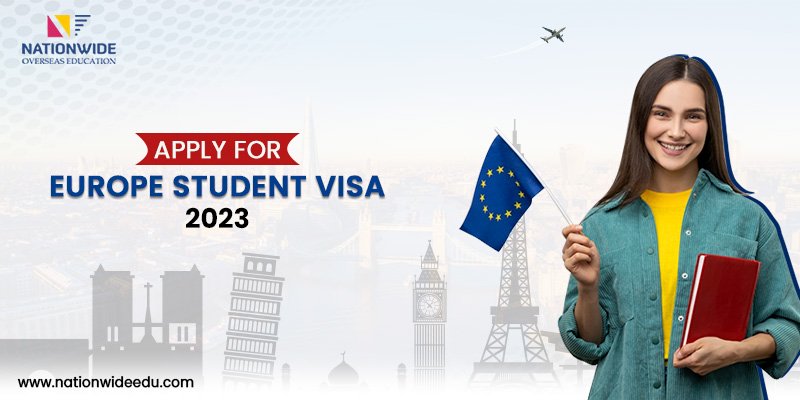 Complete Guide to Apply for Europe Student Visa in 2023
Studying abroad is every student's dream, which satisfies their curious mind with new culture and landscape. The number of international students is multiplying with every passing year. European countries have observed significant growth in international students. The reason behind this growth is the presence of top-notch universities in Europe that offers a broader spectrum of knowledge in different subjects.
However, the majority of students fall into a dilemma while choosing the best colleges and universities for them.
Are you planning to migrate to Europe for further study but need to know how to reach out there? Do not worry; we are here to help you and guide you. This blog will help to find the easy visa process to study in Europe.
So, without any further discussion, let's try to understand the process for figuring out a student visa to Europe.
Decide Country
The first and foremost thing you should have clear in your mind is the country you want to apply for a student visa. Do some research and find out the best places according to your convenience. You keep these selection criteria to select a country.
The reputation of universities and the education system
Financial stability of the country
Accommodation
PR and work permit rules for students
Complete Your Language Test
Achieving a good score on the language proficiency test should be your primary goal. Your proficiency score is equally important as your academic score while applying for a Europe student visa. Different European countries accept various language tests. Here is the list of language tests you can prepare.
IELTS academic – Most European countries accept it (minimum requirement is 6.5 band)
TOFEL – several universities in Europe, including Germany
GRE – most universities in Germany
Once you complete your English proficiency test with the required score, it's time to move on to the next step.
List Universities
Find out the best universities that are aligned with your academic career. For that, you can take the support of a Europe student visa consultant in Ahmedabad. While deciding on a university or college, consider these factors to make the selection easy.
Check whether the university or college provides the accommodation or not.
Studying in Europe is expensive in comparison to other countries. However, you could find the best and most affordable courses from reputed courses through research. While selecting colleges, keep your budget in mind. Also, you can get financial aid from a scholarship program or sponsorship.
You check the support that the university can provide when your land there. Some universities help their students in finding accommodations, jobs, and others.
Prepare a Document & Apply to Colleges
Collect your essential document in one place for applying to the university or college. To apply to European universities, you must have these documents.
Copy of your Passport
Transcript of academic record
Certificate of degree or previous education
Result of language test
Statement of purpose (SOP)
The universities or colleges will take a few weeks or months to decide on your application once you proceed with it.
Apply for a Visa
Once you get approval from the universities, proceed with your visa applications. For that, you will require the below-mentioned documents.
Offer letter from the European university
Copy of passport
Documents that back your finance
Flight tickets
Result of the English proficiency test
Endnote
While the competition for universities is continuously growing, starting your process as soon as possible is advisable. You can contact a student visa consultant to find out the best universities. They can provide every essential detail to ease your process and get the visa quickly.
Hope, this blog will help you in completing your dream!