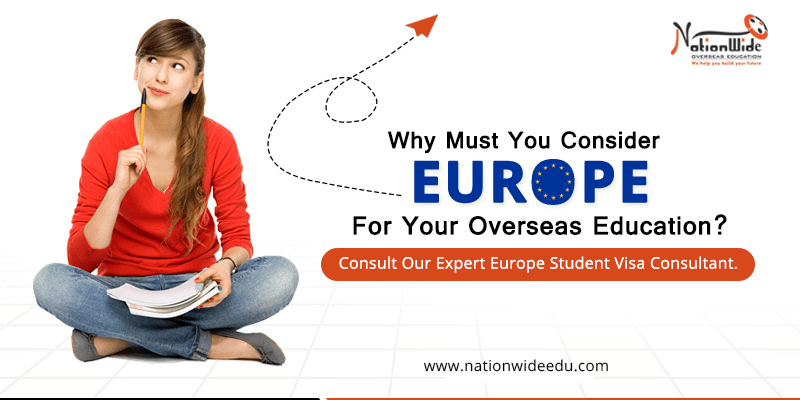 Why Must You Consider Europe For Your Overseas Education?
Every place has its own pros and cons, especially when it comes to considering a place for higher studies. Speaking of education, Europe makes one of the best continents to go pursue your education at. Go to a search engine, search for 'a good visa consultancy near me', and fix an appointment with them.
Nationwide Overseas Education is one of the best Europe student visa consultants in Ahmedabad which will help you navigate through the entire process step by step. Here are a few reasons why you must definitely consider Europe if you are looking to study further abroad.
World class education:
Europe is known for its world-class education no matter which country or university you choose to graduate from in any subject whatsoever. The universities of Europe are well equipped with the latest infrastructure, professionally expert teachers for respective subjects, scientifically advanced labs, and libraries with a good collection of books. Also, research and innovative thinking are given its due importance in Europe.
Value for money:
True that landing a seat in one of the most reputed universities in Europe isn't a cakewalk by itself. However, it is surely a good return on investment in the future. Studying in Europe offers great value for money since it has a huge variety of universities, multiple languages, and many professional courses to choose from.
Multiple languages:
The wide variety of languages including Spanish, French, German, and Russian will expose you to a perfect and healthy blend of people and cultures from all over the world. Also, this is a big advance if you want to study literature in any one of these languages.
Conclusion:
Europe is complete with its own diversity, culture, friendly people, and a wide variety of professional subjects to choose from in order to make your career an interesting one. Also, there are a number of countries in Europe like France, Germany, UK, and Switzerland that offer the best courses you might want to study. With Nationwide Overseas Education, the best Europe student visa consultant in Ahmedabad, you can rest assured that all your demands will be met as per your likes.