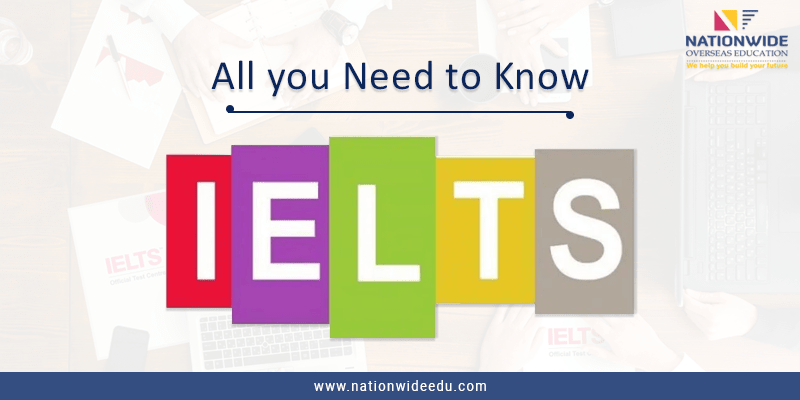 What is IELTS? How Does IELTS Work?
IELTS stands for International English Language Testing System. It is an exam intended for non-native English speakers. The purpose is to find your English language proficiency over four skills namely, Listening, Reading, Writing and Speaking. It accesses you on band score from 0 to 9. It is the most widely accepted test by most of the colleges and Universities or even for migrating to English speaking countries like Australia, Canada, New Zealand, UK and USA. It is of two types: Academic (for those applying for student visa) and General Training (for immigration).
What is covered in IELTS?
The test is divided into four modules each testing different skills. The administration, assessment and evaluation are done in a standardized manner.
The Listening test takes about 40 minutes – 30 minutes to listen to a tape and to answer questions on what you hear, and 10 minutes to transfer your answers to the Answer Sheet. There are four recorded texts ranging from monologues to group discussion and a set of 40 questions.
The Reading test takes 1 hour and your task is to read passages of text and answer questions according to what you have read. There are three passages and a total of 40 questions. Read More- Best Tips to Score Well in IELTS Reading Section
The Writing test also takes 1 hour and is divided into 2 sub-parts: you are given 20 minutes to write a letter (for General Training) /report on the given data (for Academic) and 40 minutes to write an essay.
The Speaking test takes up to 15 minutes and consists of 3 parts: A Personal Interview, a Cue Card talk and a Discussion/ Follow-up questions.
All the parts continue one after another, and only before the Speaking test you get a break. Sometimes the Speaking test is even held on a different day.
Why to take up IELTS coaching?
There is a minimum required band for getting admitted into college or to work on your immigration profile. To improve the understanding of the IELTS test and learning the strategies to get closer to your desired score, correct guidance and practice is utmost. It would also help to boost the confidence for the test. Our trainers provide the learning material and other resources to help you master the exam. The IELTS coaching is given in a well-set infrastructure with the audio-visual system and where there is a facilitating learning environment.
How long it takes to complete the course?
It is a frequently asked question which is very personal in nature since it depends on the prior knowledge of English language. There are certain factors like the range of vocabulary, grammar, fluency and so on, on the basis of which the evaluation of the language proficiency is done. The time for practice is directly proportional to the gap between the current status and the target score. Appearing for a proxy exam can be a judicious way to analyse the current level or standard; and guidance from the experienced counsellors will facilitate you to have an understanding of this time frame.
Nevertheless, practice is the key to success. Along with all the support and guidance that is available externally it will only be internalized with constant, consistent and rigorous practice.