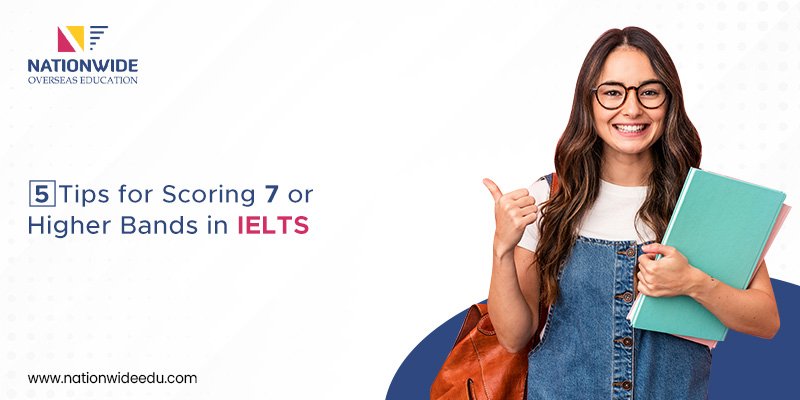 Top 5 Tips for Scoring 7 or Higher Bands in IELTS
Hundreds of students dream of studying overseas, and IELTS is one of the essential keys to unlocking the doors of their dream. Since universities, employers, schools, immigration officials, and thousands of organizations globally accept International English Language Testing System (IELTS), you get an opportunity to compete with millions of people who attempt the exam with the aim of getting a job in their dream country or to pursue further education in their favorite university.
With competition comes challenges, and that is why scoring a 7 or higher band from a total of 9 is a matter of pride for many. Even if you can work hard to achieve the score, working wisely does not harm, and thus this blog.
Before we proceed with some tips or factors that students should consider at the preparation stage, let's understand the scoring pattern of IELTS.
IELTS Score Explained Briefly
The global English language test score is based on your 4 skills, namely writing, reading, speaking, and listening. The final score or the average, also known as bands that are based on all four sections, can be anywhere on a scale of 1 to 9. However, a score of 7 bands is generally considered good.
Coming to a score scale of 1-9 on the basis of English skills, 1 represents a non-user of the language, and 9 represents an expert user. Whereas the good number 7 represents a good user of English who can communicate smoothly. It's time to proceed to the tips. Let's begin.
Some Tips to Achieve 7 or Higher Bands
Consider Preparation Time
Many of you may or may not study for IELTS seriously for the entire year, but a gap of 2 months from the exam date is ideal to leave all the extra work and get serious about preparing for your 7 bands. A minimum of 2-3 hours of practice daily for 60 days is essential to score well.
As the best IELTS coaching in Ahmedabad, we will teach you the process of skimming and scanning, wherein the former refers to quickly reading through the piece of writing to understand what it is all about. On the contrary, scanning refers to the process of rapidly going through the text to spot necessary information and errors.
It is a beneficial skill that helps reduce the average time to answer a set of questions. However, it will work best if the process is completed in 3 minutes.
Since the test analyzes your English skills, being familiar with different words is good. Our IELTS experts advise you to use new words that you learn in the relevant situation to develop your vocabulary while you still work on spelling those words right.
To achieve the desired score, you should refer to and practice from several resources even beyond your material to gain maximum exposure. Remember, regularly practicing with determination will enhance your vocabulary, skills, and working capacity, all of which are essential to accomplish 7 or higher bands.
Plan and Deliver Quality Writing
To achieve 7 or higher bands, you need to deliver quality and well-planned content. Prepare an outline of the entire content and plan to write facts in chronological order. It saves a lot of time and improves focus, allowing you to be mindful of the vocabulary, tone, and idioms you use while attempting the essay.
Wrapping Up
You can achieve an impressive IELTS score with good guidance, some tips, and regular practice. If you are stuck with the preparation or would like to join an IELTS coaching to learn from the experts at a leading overseas education consultant in Ahmedabad, feel free to contact us.