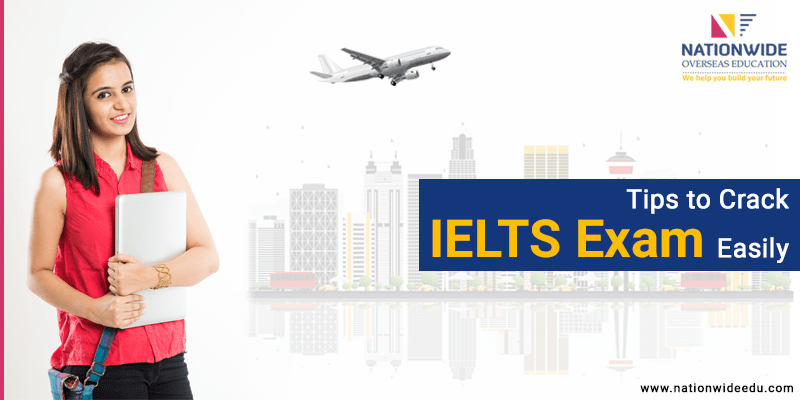 Tips to Crack IELTS Exam Easily
IELTS hardly needs any introduction as the test is one of the most reliable English proficiency tests. This test is required to prove English proficiency for pursuing studies abroad. According to overseas education consultants in Ahmedabad, IELTS scores are accepted by over ten thousands organizations worldwide. Government departments, universities, immigration authorities and employers across 140 countries require IELTS scores as a proof of English proficiency. Every year thousands of students join IELTS coaching in Ahmedabad for the same reason.
The IELTS exam is divided into 4 sections:
Listening Section
Reading Section
Writing Section
Speaking Section
Let's take a look at some amazing tips to help you crack IELTS exam with utmost ease.
1.
Listening Section
(a)
One-on-one interaction
As the name suggests, it is a conversation between two people and candidates are required to note down specific pieces of information. Most of the times, non-native English listeners fail to grab the information because of the fluency and accent of native English speakers; however, by practicing regularly and listening to English conversations on a daily basis will help you a huge deal.
(b)
Speech
Candidates are required to listen to a speech which could be in a social or academic context. This test is aimed at testing comprehensibility of the candidates.
(c)
Monologue
This is pretty much like speech but this involves a monologue. Again, practice listening to as many discussions and debates on television to prepare for this section.
(d)
Group Discussion
Group discussion happens between a maximum of 4 people. Students must join a reputed IELTS coaching in Ahmedabad to prepare for this section.
2.
Reading Section
As the name suggests this section is aimed at evaluating reading skills of the candidates. They are given long articles to read post which a set of questions such a multiple questions, summary writing, matching information, sentence completion and short answers are required to be attempted. Questions and reading passages are different for both Academic and General test. To prepare for this section, candidates must read as much as possible and make notes on a daily basis. Practicing comprehension is the key here. To improve comprehension and score well in the reading section, you must search for a good IELTS coaching near you.
3.
Writing Section
Writing section has two sub-sections. In the academic test, the candidates are expected to analyze and describe a chart, diagram or graph. Besides, they have to write an essay to express their view-point.
In the general test on the other hand, the candidates are given a situation and are asked to write a letter apart from writing an essay. The best way to crack this section is to read as many sample essays as possible and jot down all the important points. Never try presenting more than one point of view in an argument.
4.
Speaking Section
This section involves speaking with the invigilator in a one-on-one environment. As a candidate you must be responsive, fluent and confident while taking this test. The best way to practice for this section is to join a reputed IELTS coaching in Ahmedabad. Besides, you can practice at home by speaking with someone who is fluent in English and recording your interactions.