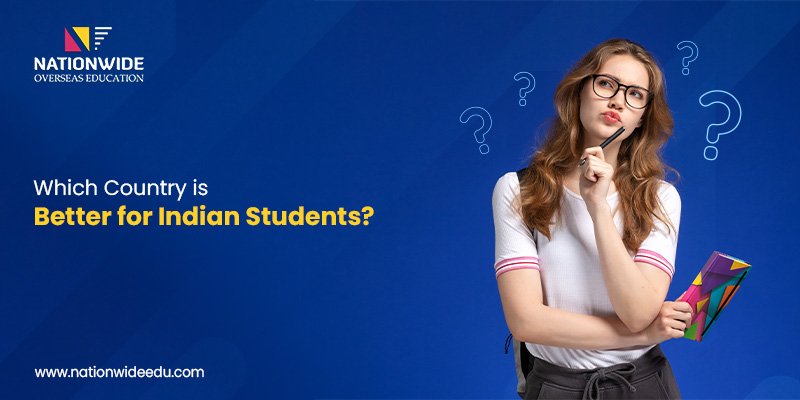 Confused About Which Country is Better for Indian Students?
The major countries where majority of students plan to study further are – Canada, New Zealand, Australia, United Kingdom and USA. Every country is known for its uniqueness like quality of education, settlement options, types of courses, post study work opportunities, easy visa process, climate and many more. The best way to identify which country is best suitable for you is what are your future plans. Below are the details of each country which will help you choose the better option as per your requirement.
1. Canada
Canada is located in North America. The capital of Canada is Ottawa. Canada is the most popular country amongst Indian students planning to study abroad. When students think about studying abroad 1st country that pops up in their mind is CANADA. Now there are many reasons why to study in Canada: Better quality of Education and Life. Post study work opportunities are there. Also, International students enjoy the same benefits rights and freedoms as all other Canadians: respect for human rights, equality, diversity and a stable, peaceful society. If you are planning for settlement after completing studies then Canada is one of the best destinations to study for Indian Students.
 The Best Courses for International Students in Canada:
Business & Management Studies
Hospitality & Leisure Management
Engineering
Medicine
Accounting & Finance
Computer Science
Media & Journalism
Nursing
2. United Kingdom
UK is located in the Northwest coast of Europe. The capital of UK is London. Now a days, United Kingdom has become the largest destination for Indian students to study abroad. One of the major reason to study in UK is that even after a huge gap one can still fulfil his/her dream of gaining masters or Ph.D degree whereas easy dependent visa and  can a work full time . The process for study visa in United Kingdom is easier than any other country.  Post study work opportunities are available. Also, students can apply in UK on MOI basis or get IELTS waiver. UK offers scholarship to International students. Moreover, there are many Universities where students get application fees waiver.
 Best Courses to Study in UK:
Business Analytics
Data Science
Computer Science
MBA and MIM
Finance, International Business and Accounting
Law
Architecture and Construction Management
3. Australia
Australia is located in Oceania. Oceania is a region made up of thousands of islands throughout the Central and South Pacific Ocean. The capital of Australia is Canberra. Australia is known for its diversity and welcoming people from different cultures – there are so many reasons to consider studying in Australia. After Canada, Australia is 2nd country preferred by many Indian students for abroad studies. The benefits for international students in Australia include its excellent courses, better student life, quality, post-study work permit, scholarship opportunities, job opportunities after studies and more. Australia also offers easy dependent visa. Also, you can apply for PR after completing studies.
Best Courses for International Students in Australia:
Accountancy
Actuarial Science
Agricultural Science
Architecture
Biomedical Engineering
Core Engineering
Earth Science
Information Technology and Computer Science
4. New Zealand
New Zealand is located in South-Pacific Ocean. The capital of New Zealand is Wellington. When you are dreaming to study abroad and your dream destination is New Zealand then the most important thing you should be aware about whether the course you are planning to study here is considered in green list of New Zealand or not. After covid-19, New Zealand opened its border for students and some changes were also introduce for study permit. The categories in Green List are Doctors, Nurses, Teachers, Engineers and Architects. New Zealand also offers settlement options after completing studies as per their Green List.
Courses to Study in New Zealand:
Engineering
Medicine
Engineering Forestry
IT and Computer Science
Agriculture
5. United States of America
USA is located in North America. The capital of USA is Washington D.C. Every year, the number of Indian students who are planning to study abroad are increasing and out of which many students are more inclined towards studying in US. Many students choose the United States as the place they wanted to broaden their career opportunities and also pursue their higher education. In fact, the US is the most popular country for Indian students. USA is popular for Biotechnology, Biomedical, and Bioinformatics that have numerous career opportunities.
Top Courses to Study in USA: 
Engineering
Business
Nursing
Hospitality
Education
Computer Science
Architecture
Pharmaceutical Sciences
ADVICE –
When you plan to study abroad you should visit a Student Visa consultant who can help evaluate your profile and guide you as which country is best suited and relevant as per your requirement.