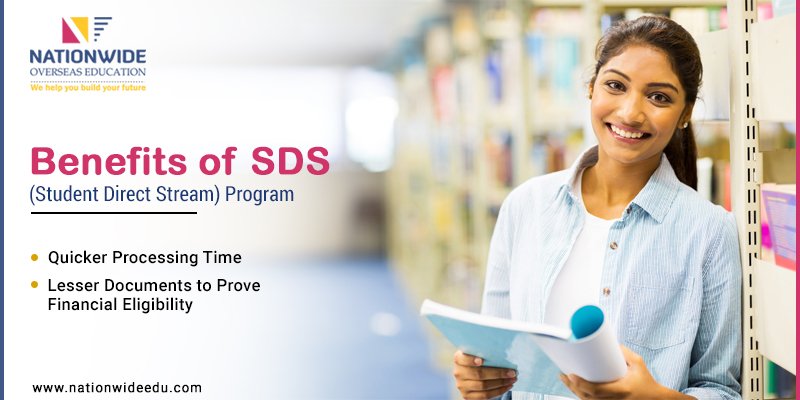 Benefits of SDS (Student Direct Stream) Program
Every year countless international students file student visa applications. IRCC (Immigration, Refugees and Citizenship, Canada) lately introduced a new application program named- SDS (Student Direct Stream) to make student visa application process more feasible for students from India, Vietnam, China and Philippines.  Reputed student visa consultants for Canada receive hundreds of enquires from Indian students about the SDS program.
Intro to SDS (Student Direct Stream)
Student Direct Stream also known as SDS is aimed at making study permit application process more streamlined and efficient for students who are proficient in English and French languages. Besides, students who are looking to pursue post –secondary programs with designated learning institutes have an opportunity to do so.
Requirements of the Student Direct Stream Program
In order to qualify for the Student Direct Stream Program certain requirements are supposed to be fulfilled. Let's take a look at what the requirements are:
The student must have a letter of acceptance issued from a designated learning institute.
The student will need to prove necessary language proficiency in English/French.
The student will need to furnish necessary proof of funds to support himself or herself during the study period.
A medical examination report will be required to be furnished as well.
30th April, 2019 onwards, students need to apply only online as no paper applications will be entertained.
Guaranteed investment certificate worth $10000 will be required to be purchased.
For more information about the requirements and how to go about them, it is highly recommended that you consult any expert overseas education consultant in Ahmedabad. It saves your precious time and efforts from getting wasted. Professional Canada student visa consultants in Ahmedabad are experienced enough and have in-depth knowledge about the entire process.
Benefits of Student Direct Stream Program
There are several benefits of applying for the SDS program.
1.
Quicker Processing Times
SDS program is aimed at making the entire process streamlined and easier. It takes about 45 days or less for the processing to take place; however, it is mandatory for the student to match the series of requirements. By failing to do so, the application will be processed along with other regular applications according to the standard CIC processing time.
2.
Lesser Documents to Prove Financial Eligibility
One of the major benefits of applying for the SDS program is lesser documents to prove financial eligibility. Non-SDS programs require you to furnish way too many documents to prove your financial eligibility.
PRO-TIP: The best way to get your visa application get approved in the first go is not to make any mistakes while filling up the application form and providing documents. You can do so by visiting a Canada student visa consultant in Ahmedabad.